Jack Wilshere: He just said if you can get a contract elsewhere you can go
Jack Wilshere is relishing a fresh chance with England seven months after Arsne Wenger realised the Arsenal midfielders worst fears, he tells Dominic Fifield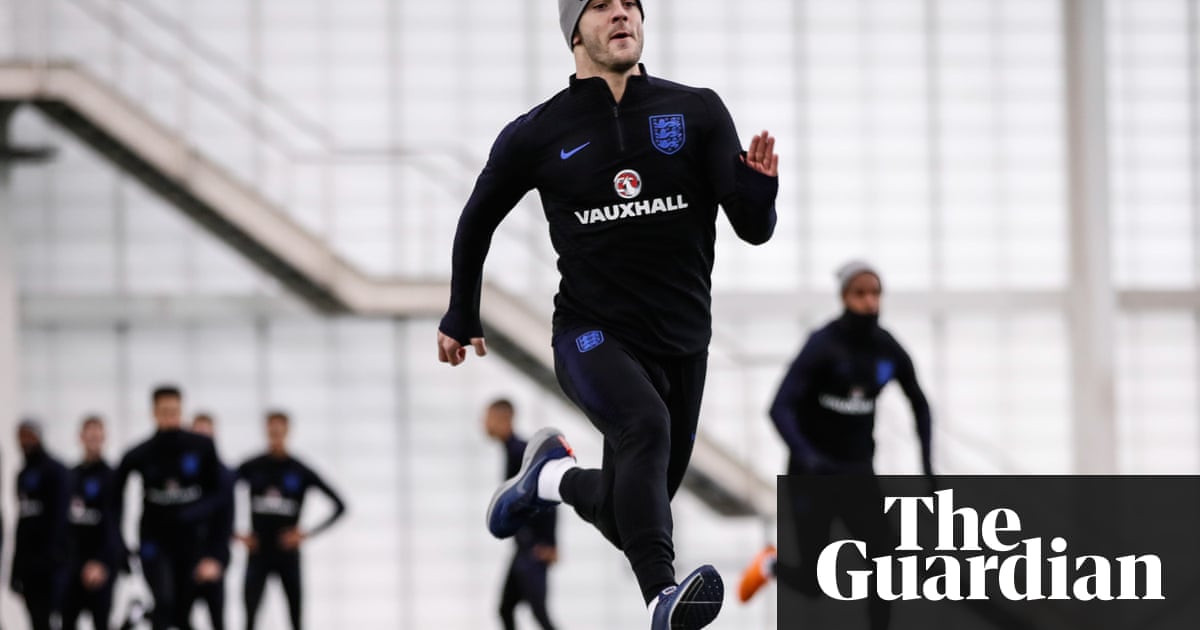 It was in early August, with the new Premier League season primed, when Arsne Wenger delivered the news Jack Wilshere dreaded. The midfielder had been working up a sweat on an exercise bike in the gym at Arsenals training ground when the manager ambled over and left the spin session stalled. It was an honest conversation, Wilshere recalls. It had been boiling up for a while. Everybody knew I had a year left on my deal and had been out on loan, got injured and wasnt really in his plans. He just said: At the moment we are not going to be offering you a contract so, if you can get one somewhere else, you can go.
Almost eight months on and, as he sits in the Futsal hall at St Georges Park, it is easier for Wilshere to reflect on such a painful memory even though, in essence, not much has changed. Arsenals stance may have shifted to the extent they have made a contract offer, albeit on a reduced basic wage of around 80,000 a week with significant incentives for a player whose body had proved so brittle. But, while Wilsheres priority is to stay, he will not do so on those terms, leaving discussions at an impasse. With interest from Everton, West Ham and Juventus, the possibility remains that he could this summer leave the club he joined at the age of nine.
Yet, around the issue of his long-term future, the landscape has shifted dramatically. Wilshere, for one, is clad in England training gear as he talks and is preparing to earn a first cap since Iceland and the national teams humiliating departure from Euro 2016. His fitness has held and he has amassed more club appearances this season 31 than in any campaign since 2013-14, despite remaining among the Europa League and Carabao Cup fringe contingent until late November. He has even worn the captains armband, with his heavy involvement over the last few months and recall to the England set-up the reward for bold choices: whether that loan move to Bournemouth last season or his determination to prove he warranted a role at Arsenal this time round.
Obviously I wasnt happy with what the manager had said but, at the same time, part of me knew all this already, he says. All I needed was some clarity on where I stood at the football club. How did I feel after? It did make me think. Hed said I could fight for my position and, if I performed well in the Carabao Cup and Europa League, Id have a chance. I had three or four weeks left in the transfer window but I didnt find anything I wanted and at the same time I wasnt really fit. So I decided to build up my fitness. I always had confidence I could get back into the midfield, and keep my place, if I was fit.
Id been in a similar situation the previous year. Id come back from the Euros and picked up an injury in pre-season and, for the first few games, I was not in the team. I knew I had to play at that stage of my career because, the year before, I had missed a lot of football [an ankle injury had restricted him to three appearances for Arsenal]. I couldnt just be coming on from the bench, so I went to Bournemouth. A lot of people disagreed with that decision but I played a lot of games and proved to myself I still could.
So when the boss said I could leave, I wasnt still thinking: I need to get out and play games. It was more of a case of getting fully fit and showing what I could do. When I was at Bournemouth, getting back here was always the aim. This is where I wanted to be.
That sense of satisfaction stems from his restoration with club and country. Arsenal have leant on their long-serving midfielder through the trauma of recent weeks, his displays offering encouragement as another campaign fizzles out prematurely on all but a European front and earning praise from such as Milans Gennaro Gattuso. For Gareth Southgate, a manager juggling midfield options, the 26-year-olds return to fitness is timely. England have four friendlies before they confront Tunisia in Volgograd. Wilshere will have a chance to prove he warrants significant involvement.
Ive always loved representing my country and its something Ive missed, he says. But I never gave up hope Id do it again. Ive always felt this is somewhere I belong. Now its down to me to stake my claim. Im not doing much different from in the past but, if I do not feel quite up to it, maybe Ill miss a day rather than think I can get through it now. Also, Im not going in for stupid tackles, which helps. Thats part of growing up and maturing.
The national set-up will welcome his class back into the fold, though he could yet depart for Russia with his club future unresolved. I dont think it would be a distraction, adds Wilshere. This is one of the most important years of my career and, if Id worried about the contract, I would have probably ended up leaving in January. I just wanted to focus on getting back in the Arsenal team and then, hopefully, getting back here with England.
Ideally, yes, Id want it sorted as soon as possible. I want to go to the World Cup and enjoy it. But we have three months till then and a lot can happen. Lets finish the season strongly. Weve got a big competition that we need to win with Arsenal and I want to be involved in that. Hopefully, going into the World Cup, Ill be fit and, if selected, confident.
Read more: https://www.theguardian.com/football/2018/mar/21/jack-wilshere-arsene-wenger-contract-arsenal