Purdue Pharma settles opioid lawsuit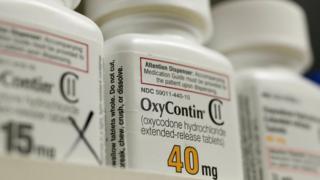 Purdue Pharma, the drug-maker owned by the billionaire Sackler family, has reached a $270m settlement in a lawsuit which claimed its opioids contributed to the deaths of thousands of people.
The deal with Oklahoma is the first settlement the US firm has struck amid some 2,000 other lawsuits it is facing linked to its painkiller OxyContin.
Purdue is one of several firms named in the claim which alleged they used deceptive practices to sell opioids.
Purdue Pharma declined to comment.
The lawsuit claimed that in order to persuade doctors to prescribe their painkillers, Purdue, and other companies such as Johnson & Johnson and Teva Pharmaceutical, allegedly decided to "falsely downplay the risk of opioid addiction" and "overstate" the benefits of their drugs to treat a wide range of conditions.
The other companies named in the lawsuit are not part of the settlement. Purdue and the other firms deny the claims.
On average, 130 Americans die from an opioid overdose every day, according to the Centers for Disease Control and Prevention.
In 2017, of the 70,200 people who died from overdose, 68% involved a prescription or illegal opioid.
Purdue Pharma is owned by the Sackler family, who are worth $13bn according to Forbes magazine and are prolific philanthropists, having contributed millions of dollars to the arts.
However, a number of major galleries recently announced that they would not accept donations from the family, including the Tate in the UK and the Guggenheim in New York.